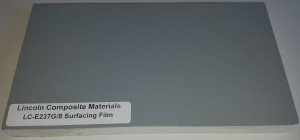 LCM  Announces LC-E237G Surfacing Film
Lincoln Composite Materials is proud to announce the immediate availability of our supported surfacing film, LC-E237G. This surfacing film creates a porosity-free finish requiring minimal to no surface prep.
The high-quality finish of LC-E237G surfacing film is paint and primer ready right out of the mold. Standard colors for the supported film are gray and white, with various other colors available. Similarly, if your application requires something other than our standard 0.035 psf (170 gsm), our team is happy to accommodate.
LC-E237G surfacing film is also available with lightning strike screens or foils with all of the above options. Whatever variation of LCM's surfacing film you choose, it will provide an excellent finish that reduces time and cost.
LC-E237G surfacing film is offered with a lead time of two weeks or less. For further information please contact us at (714) 898-8350 or email sales@lcmaterials.com.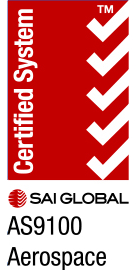 LCM  Certified  to  AS9100
Lincoln Composite Materials, Inc. (LCM) is proud to announce the certification of our Quality Management System to AS 9100 Rev C. In pursuit of this certification, LCM engaged in a rigorous audit of every facet of our business. Attaining this certification validates our commitment toward continuous improvement of all our processes, and strengthens our ability to meet and exceed our customer's needs and expectations. This commitment runs deep within our organization, and is the responsibility of every employee. We look forward to serving our customers, and thank them for their continued loyalty and trust in LCM.